Not to be confused with the upcoming ABBA album Voyage.
ABBA Voyage is an upcoming ABBA concert residency set to begin May 27 2022.[1] It will take place in a custom built arena in the Queen Elizabeth Olympic Park.[2]
Launch
[
]
Website
[
]
The website, abbavoyage.com, launched August 26 2021, teases "The wait is nearly over...". It features the ABBA Voyage logo, the glowing planets featured in other marketing material. It asks visitors to "Register your interest to be the first in line to hear more about ABBA Voyage." and has an email signup form. The website is published by Aniara Limited and references Universal Music Group as a partner in the privacy policy. The website also links to a Facebook page, Instagram page and Twitter page.
Announcement livestream
[
]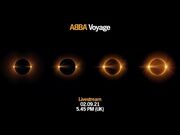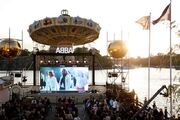 On August 31, ABBA announced a livestreamed announcement would take place on YouTube on September 2 at 5:45 BST.[3]
On September 2, Björn Ulvaeus and Benny Andersson were photographed arriving in London for the launch event.[4]
Arena
[
]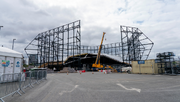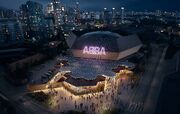 The show will take place in the ABBA Arena, a custom built venue located in the Queen Elizabeth Olympic Park, Stratford, London. It will have a capacity of 3000.
Show
[
]
22 songs will be performed by ABBA's digital avatars over 90 minutes. The set list will contain the lead singles from Voyage; I Still Have Faith in You and Don't Shut Me Down, however it will mainly be a "greatest hits" concert with classics such as Dancing Queen. The performances were choreographed by Wayne McGregor, multi-award winning Resident Choreographer of the Royal Ballet.
ABBAtars
[
]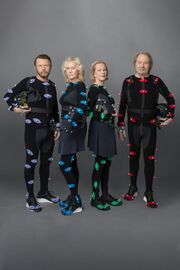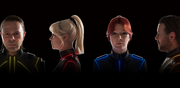 The digital avatars, dubbed 'ABBAtars' were created using motion-capture technology of the four ABBA members performing on-stage surrounded by over 140 cameras. These recordings captured the mannerisms of the four members, while old pictures were used to model the avatars after their younger selves. This work was carried out by over 850 employees of Industrial Light & Magic, founded by George Lucas.[1]
References
[
]